Kochi Tourist Places
Kochi also known as Cochin is the business capital of Kerala with a population of around 2.5 million it is a part of Ernakulam District in Kerala. Most probably Kochi will be the first tourist place you will be landing in Kerala. Kochi has a lot of tourist places which includes Marine drive, Chinese fishing net, St Francis Church, Fort Cochin, Dutch palace, Jewish synagogue, Cherrai beach etc.
1.Cochin Marine Drive( Marine Drive Kochi):
Marine Drive is One of the beautiful walk ways in the Heart of the City facing backwaters. It is a famous hangout of the locals and considered as one of the best Kochi tourist places. Best time to visit the Cochin (Kochi) Marine Drive is evening after Sun Set. Marine Drive offers options for Boat Trips to nearby islands and Back water Canal Tour.
Cochin Marie Drive

Entry –Free
Marine Drive Backwater Canal Tour Timings
Full Day Tour 8:15 Am to 5:30 Pm
Half Day Tour 8:15 Am to 1:00 Pm
Sun Set Tour (Seasonsal) 5.30 Pm to 7.00 Pm
Marine Drive Backwater Canal Ticket Fare
INR 850/- Person for Full Day Tour
INR 600/-Person for Half Day Tour
INR 300/- Person for Sun Set Tour
2. Chinese fishing net:
In this place you can see the unusual method of fishing using Chinese nets. The interesting fact is that all the fishing activities take place on the shore. This ancient method of fishing attracts a lot of travelers to this tiny tourist place in Kochi. You can click pictures of sunset from here.
Entry-Free
Chinnese Finishing Net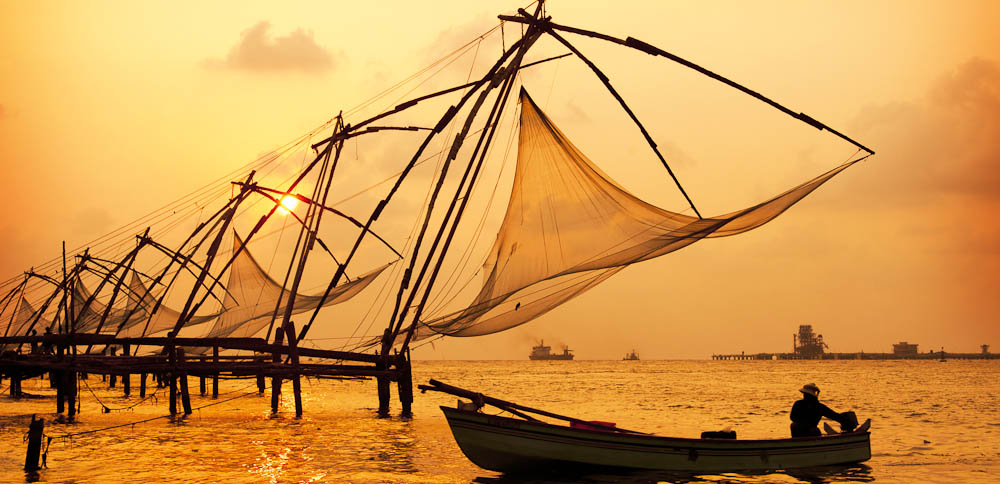 3. St Francis Church:
This famous church in Kochi was constructed by the Portuguese in 15th century. This church was later handed over to the British. The area around this church is knows as church road.
Entry is free and open from 7 Am to 7 Pm
4.Dutch Palace:
Known as Mattanchery Kottaram ,this palace was built by the Portuguese in 1568 as a gift to the king of Kochi. This palace was used for the coronations of Kochi Kings. Costumes of kings and swords are displayed in the palace.
Entry Fee- INR -25 for Indians and 100 for foreigners
Timings - 10 Am to 5 Pm. Saturday to Thursday
5.Cherrai Beach:
Situated 25 Kms away from Kochi city it is Known as a swimming friendly beach as waves are not strong and shallow. The Cherrai beach combines backwaters and beach, a very rare combination.
Entry –Free
6. Jewish synagogue :
Situated 3.5 Km away from Kochi city is a unique example of Kerala's religious freedom and culture. This area is better known for the Jewish Synagogue built by Cochin Jewish community on the land gifted by King Rama Varma in 1568. Mattanchery palace temple and Jewish Synagogue share a common wall and this area is popularly known as Mattanchery Jew Town.
Entry – 10 Am to 5 Pm
Entry Fee- INR- 5
7.Athirapally Vazhachal waterfalls:
it is the most famous and largest water fall in Kerala and the only place where you can find the four South Indian species of hornbills
Distance from Different Places to Cochin (Kochi)
Cochin to Munnar : 127km/4.30 Hours
Cochin to Thekkady: 174km/5 Hours
Cochin to Alleppey: 57km/2 Hours
Cochin to Kovalam: 218km/5 Hours
Cochin to Athirapally Waterfall : 72Km/2 Hours
Cochin to Cherrai Beach : 40 Km/1 Hours
(Distance May Vary From Point to Point)
Also See: Kerala Hill Stations
Also Read :Kochi Tour