Kerala Travel Tips & Information:
What to Carry to While Travelling to Kerala.
We would like to suggest you to pack your baggage with following items for your Kerala Travel Package.
Umbrella: - Carry an umbrella during your travel to Kerala as it will protect you from the Blazing sun and sudden heavy rain.
Torch:-It is better to carry a torch if you are planning a trekking trip
Mosquito Repellent: - Don't forget to carry your mosquito repellent cream because when it rains it attracts a lot of mosquitoes
Clothes: - Light cotton clothes are recommended for your Kerala travel But if you are travelling to Hill stations like Munnar and Thekkady then it is better to carry woolen clothes along with other clothes. Heavy woolen clothes are not required in Kerala.
Shoes: - It is better to carry a pair of Slippers along with Normal Shoes especially during Monsoon Seasons.
Other Things to carry on your trip to Kerala are
Mobile Charger, Sunglass, Kerala Map, Hand Sanitizer and Universal adaptor plug.
Kerala Travel Tips
There are many tips to keep in mind while travelling in Kerala like health precautions, safety measures etc…..
Always use purified water. Drinking & eating from roadside vendors is not advisable. Avoid Cut fruits.
Carry Mosquito repellent cream during Monsoon Seasons. Try to get all your vaccinations at least before 4 weeks of your travel date.
You are not allowed to touch/ take pictures of idols in temples of Kerala.
There are some Seasonal diseases in Kerala during Monsoon like Dengue, cholera, Water Don't accept food items from strangers while travelling by Train/public Transport infection etc.
Avoid wearing Provocative or Revealing clothes in Public Places during your trip to Kerala.
Public display of affection is not recommended in Kerala and other parts of India.
Usually Elephants don't harm you but we suggest you not to touch/feed them in the absence of their Mahout (Master of Elephant).
Also See : How to Reach Kerala
Kerala Culture.
Religion in Kerala
Religion in Kerala is a mixture of different faiths, while visiting Kerala you may respect the culture and heritage of the state. In temples mosques and church you should keep footwear outside. Most of the temples allow non-Hindus too. Some temples follow some strict dress codes also.
Out of the 33.9 Million People in Kerala About 56% of Kerala population are Hindus, 24% Muslims and 19% Christians and remaining 1 % constitute Jain, Sikhs, Buddhists and Jews. But people of Kerala live in religious harmony and not much bothered about their religious status.
People of Kerala
Knowledge of local customs and way of life will help you to interact with People of Kerala. People are very friendly and down to earth. Kerala is only state in India which has the highest literacy rate. Most people are conversant in English.
Kerala Liquor Policy – Liquor information for Tourists
Kerala Government has cancelled the bar license of all hotels in Kerala except 5 star Hotels. There is no restriction to sell wine and beer in the licensed bars. Tourists can buy liquor from the Kerala Govt. Alcoholic beverage outlets, Kerala Beverages Corporation Outlets and super markets. Timings of outlets are 9.30 Am to 9.00 Pm. For more information, check the website of Kerala State Beverages Corporation Ltd below.
http://www.ksbc.kerala.gov.in/know.htm
Distance from Different Cochin (Kochi)
Distance from to Munnar Cochin:127km/4.30 Hours
Distance from Cochin to Thekkady:174km/05 Hours
Distance from Cochin to Alleppey:57km/02 Hours
Distance from Cochin to Kovalam:218km/05 Hours
Distance from Cochin to Athirapally Waterfall:72Km/02 Hours
Distance from Cochin to Cherrai Beach:40 Km/01 Hours
Distance from Different Places to Munnar
Distance from Cochin to Munnar:127 km/4.30 Hours
Distance from Thekkady to Munnar:85 km/2.30 Hours
Distance from Trivandrum to Munnar:265 km/5.40 Hours
Distance from Kanyakumari to Munnar:336 km/6.45 Hours
Distance from Alleppey to Munnar:160 km/04 Hours
Distance from Different Places to Thekkady
Distance from Cochin to Thekkady:174km/05 Hours
Distance from Munnar to Thekkady:85 km/02.30 Hours
Distance from Alleppey to Thekkady:139 km/03 Hours
Distance from Kovalam to Thekkady:218 km/4.30 Hours
Distance from Different Places to Alleppey
Distance from Cochin to Alleppey:57 km/02 Hours
Distance from Munnar to Alleppey:160 km/04 Hours
Distance from Thekkady to Alleppey:138 Km/2.50 Hours
Distance from Kovalam to Alleppey:161 km/03 Hours
Distance from Kumarakom to Alleppey:32 km/45 Minutes
Distance from Trivandrum
Distance from Trivandrum to Kovalam:17kms/ 30 Minutes
Distance from Trivandrum to Cochin:201km/5 Hours
Distance from Trivandrum to Munnar:265 km/5.40 Hours
Distance from Trivandrum to Thekkady:202 km/3.50 Hours
Distance from Trivandrum to Alleppey:144 km/2.30 Hours
Distance from Trivandrum to kanyakumari:90 km/2.00 Hours
Distance from Trivandrum to Poovar Beach:32km /40 Minutes
Distance from Trivandrum to Varkala Beach:44 km/1.15 Hours
Distance from Different Places to Kanyakumari
Distance from Trivandrum to Kanyakumari:90 km/02 Hours
Distance from Cochin to Kanyakumari:294 km/06 Hours
Distance from Munnar to Kanyakumari:336 km/06.45 Hours
Distance from Thekkady to Kanyakumari:349 km/06 Hours
Distance from Alleppey to Kanyakumari:237 km/4.45 Hours
Distance from Kovalam to Kanyakumari:82 km/1.45 Hours
(Distance May Vary From Point to Point)
Kerala Road Map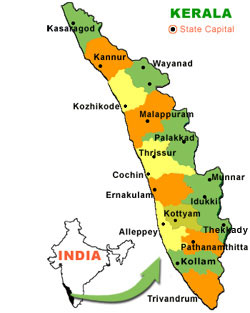 Kerala Tourism Map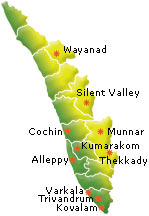 Also Read : Tourist Spots in Kerala