The backwaters are unique to Kerala and it is the most important aspect of Alleppey Tourism. The 910 Kilometers long stretch of canals and fresh water rivers that flow into the Arabian Sea. The emerald green water, long stretch of paddy files, the flocks of ducks and the long necks of cormorants make Alleppey, the number one backwaters destinations in the World. Alleppey is also called Alappuzha known for its backwater canals, Green waters and houseboat tourism. 
Alleppey is the place where you can spend your spend your time amidst emerald green waters and paddy fields. Home to the most popular backwater lakes of Kerala, Alleppey has been attracting millions of visitors from every parts of the world. It has received wide acceptance and popularity due to its unique houseboat tourism. Backwaters and Alleppey beach are among the best places to visit in Alleppey. Tagged as the Venice of the East  it offers a number of places of tourist interest  and seek peace in nature's beauty and the serene atmosphere that surrounds it.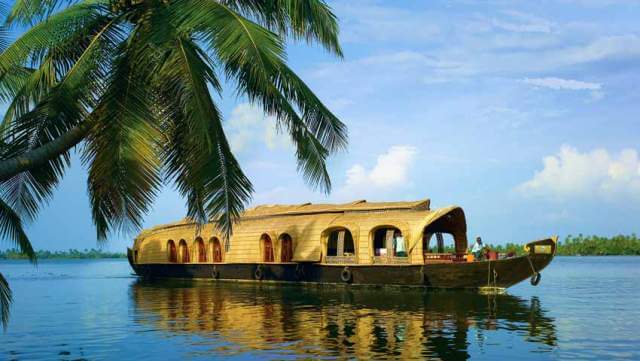 Kerala is the most popular tourist attraction in India. Blessed by the nature the state has been attracting a large number of tourists from within the country and from different parts of the world. It's amazing natural beauty and unique backwaters attracts millions to this tiny state. The backwaters are a part of river with no current. The place is called backwaters because the lake water in Kerala is actually fresh river water that comes down from the main rivers and is then used for agriculture and later the lake water as it goes ahead merges with the Arabian Sea. 
Alleppey is home to hundreds of houseboats and here guest can find variety of houseboats waiting to entertain the visitors coming from different parts of the country and abroad. There are a large number of visitors who visit Kerala for its Ayurveda wellness treatments, backwaters rides, greenery, snake boat races and village tourism. Alleppey Beach, located around 1.5 Km from the city  is considered as the best place for spending some quality time with family. To explore this backwater destination travelers can choose from 1 day Alleppey tour package to 10 days tour package as per your convenience and budget. 
The longer your stay the more you can enjoy your time in Alleppey.Frankly speaking, visitors need at least two days to fully explore the main tourist places of Alleppey, and you should preferably have two days in hand to explore Alleppey. But Alleppey sightseeing in one day is possible too, if you plan your travel plan as per your preferences. If you plan properly you can explore more than 6 best tourist attraction in Alleppey in one day that too at your own pace.
How to Reach Alleppey:
Nearest Airport: Kochi International Airport.
Nearest Railway Station: Alleppey Railway Station.
Nearest Bus Terminal: KSRTC Bus Stand Alleppey.
LIST OF TOP PLACES TO VISIT IN ALLEPPEY IN ONE DAY:
Alleppey House Boat
Enjoy the Boat Race
Visit Coir Industry
Visit Mullakkal Raja Rajeswari Temple.
Revi Karuna Karan Memorial Museum.
Bird Sanctuary
Mary's Forane Church
Alleppey Beach
Ambalappuzha Sri Krishna Temple.
Vembanad Lake.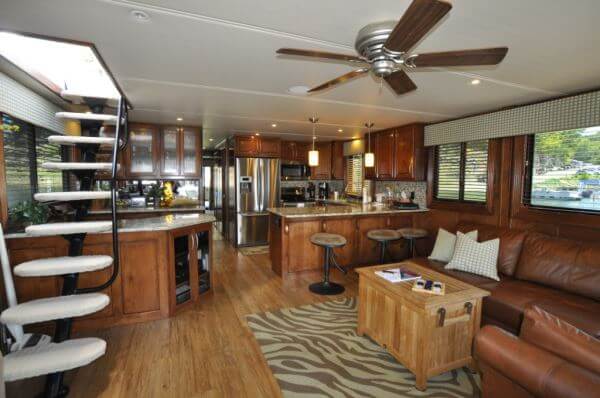 1.Alleppey House Boat
Alleppey is known for its backwaters and houseboats. Alleppey houseboat is the number one tourist attraction in Kerala backwaters and boating is the best way to go around the region.  Houseboat is a modernized form of traditional Kettuvallam boat that villagers used to transport rice from the paddy fields to town markets. 
Today these houseboats made of bamboo, coir and wood have been stylishly modified into floating cottages are the most popular tourist attractions in Alleppey. Tourist Houseboats are complete in all aspects and provide all the modern amenities of a luxury hotel. House boat trip helps you to travel in the Kerala backwaters on the Vembanad Lake and enjoy the majestic surroundings of Alleppey that comprises of never ending paddy fields and coconut farms .Alleppey tour also allows you to enjoy the sunset in the backwaters.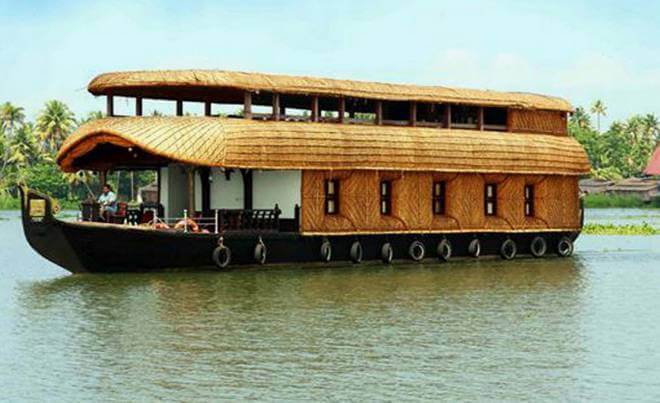 Read More About : Kerala Backwaters
There are a number of places to visit in Alleppey. This trip wonderful trip provides breathtaking views of Alleppey village life and natural beauty of this majestic place. Explore the paddy cultivation and coir making activities. If you are on a tight budget you can explore the backwaters by cheaper options like Shikara rides or Government run See Kuttanad passenger boat service from Alleppey to Kainakary. (Lowwer deck is reserved for daily commuters and Upper deck with cushioned seats for tourists)
2.Boat Race
Alleppey Snake boat races started in 1952 have a global reputation out of which Nehru Trophy Boat Race is the number one race in Kerala. This annual boat race is a usually held during Onam Festval which typically falls in the Month of August. If you plan your trip to Alleppey properly you will be able to witness this spectacular event as it offers great excitement for the spectators.
Nehru Trophy Boat Race is held on the Punnamda Lake in Alleppey and several thousand of tourist from all over the world come to witness the memorable event. If you are not able to visit Alleppey during this period you can still enjoy the boat races that take place on regular basis. The sight of the spirited team rowing the boats is thrilling and there is a frenzied excitement in the air. The race is the pride of every village and all the rowers put their best efforts to achieve the glory of their villages.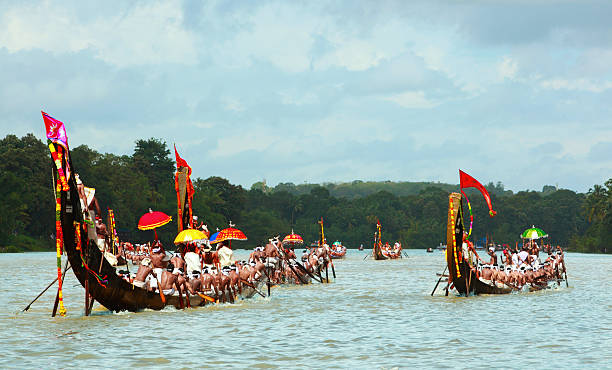 3.Visit Coir Industry
Alleppey district is the hub of coir industry in India. Kerala is the number one coir producer and exporter of coir fibers. Coir is extracted from the coconut husks and used to make eco friendly floor mats, strings, ropes, brushes and mattresses and more coir products. Tourists can visit the coir workshops and learn the steps involved.
Opening Hours:
Monday to Saturday from 10:00 am to 05:00 pm.
Entry- Free.
4. Mullakkal Raja Rajeswari Temple
Mullakkal Raja Rajeswari Temple is a century old famous temple in situated in Alleppey district in Kerala. The temple is dedicated to Goddess Durga and located at a distance of 4.5 Kms from Alleppey Railway Station. Two important festivals are Navarati Festival and Thaippoyakavadi festival. 
Navarati Festival is held during October- November and Thaippoyakavadi festival during Novermber – December. Several cultural programs like Kathakali, Ottanthullal and many dances are performed at the time of these festivals. Both festivals are important festivals and the whole Alleppey area is decorated with fancy lights and decorations.
Opening Hours:
Open all days from 07:00 am to 07:00 pm.
Entry- Free.
5. Revi Karuna Karan Memorial Museum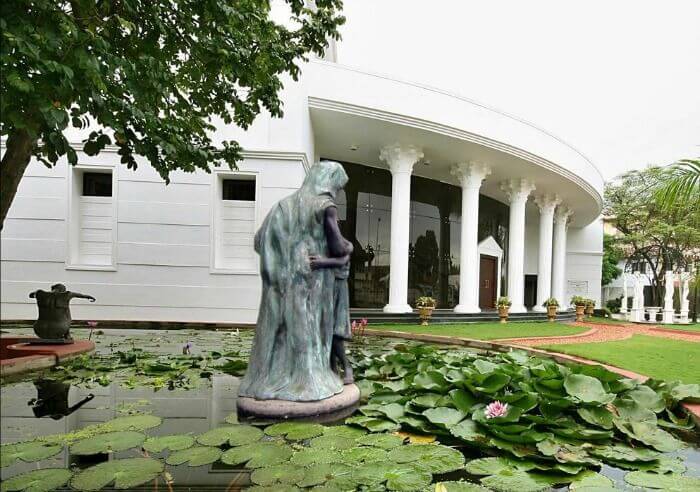 Revi Karuna Karan Memorial Museum is a private museum by a lady in the memory of her husband. This well maintained museum has a vast collection of crystal, ivory items, crockery, and sculptures imported from different countries. Entry ticket is INR 150 per person. This museum has 3 floors with so many items like beautiful statues, vases and other materials from Europe. A bunch of limited edition Swarowski collectibles is also part of this museum. You can also find out the famous artworks of all Indian religions in the museum.
6.Kumarakom Bird Sanctuary
The Kumarakom Bird Sanctuary also known as the Vembanad Bird Sanctuary is located in Kumarakom around 29 Km from Alleppey. This beautiful bird sanctuary located on the banks of the Vembanad Lake in Kuttanad region is a favorite haunt of migratory birds like darter, egret, teal and the Siberian stork. Spread over an area of 14 acres it is the first scientifically preserved bird sanctuary in India.
This bird sanctuary is a favorite destination for migratory birds and attracts thousands of travelers from all over the world. The profuse bird life owes much to the climatic peculiarities of this backwater destination. A trip to this Bird Sanctuary is thus a must while in Alleppey. House boats and Shikara boats are available on rent for bird watching tours in Kumarakom.
Opening Hours: Open all days 06:40 am to 05:00 pm
Entry fee: Domestic Tourist: INR- 50. Foreign Tourists : INR 100
7. St. Mary's Forane Church Kerala Backwaters 
Established in 427 AD, St. Mary's Syro Malabar Catholic Church is one of the oldest and beautiful churches in India. The church is one of the must visit tourist attractions in Alleppey owing to its various rock inscriptions, magnificent sculpture ancient art works and the beautiful backwater surroundings . Apart from the Easter, Good Friday and Christmas celebrations two main feasts celebrated here are Feast of Mother Mary and commemoration of the death of St. Joseph. Entry : Free
8. Alleppey Beach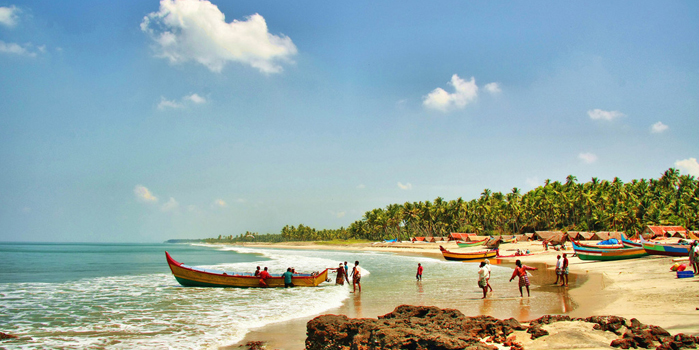 Alleppey beach is a white sand beach laden with natural beauty everywhere. Hallowed with majestic scenery this beach considered to be the number one place for tourists to hangout and relax. Allappuzha beach is a popular picnic spot and favorite gateway for local tourists. 
The beach is surrounded by lakes, fresh water rivers and canals provide an amazing and peaceful atmosphere for the tourists as the government has restricted the commercial activities in the beach area. The beach is a heaven for travelers seeking relaxation as well as for people interested in adventure sports like surfing and beach volleyball.
9. Ambalappuzha Sri Krishna Temple

Situated 14 kms from Alleppey Sri Krishna Temple is one of the popular temples of Kerala. Built in Kerala architectural style the temple attracts thousands of devotees as well as tourists visiting Allappuzha. The important feast of the temple is held in the months of March –April every year.The temple is famous for its popular Palpayasam, a sweet dish made of rice and milk.
Opening Hours:Open now
Open all days from 07:00 am to 07:00 pm.
Entry- Free.
10. Vembanad Lake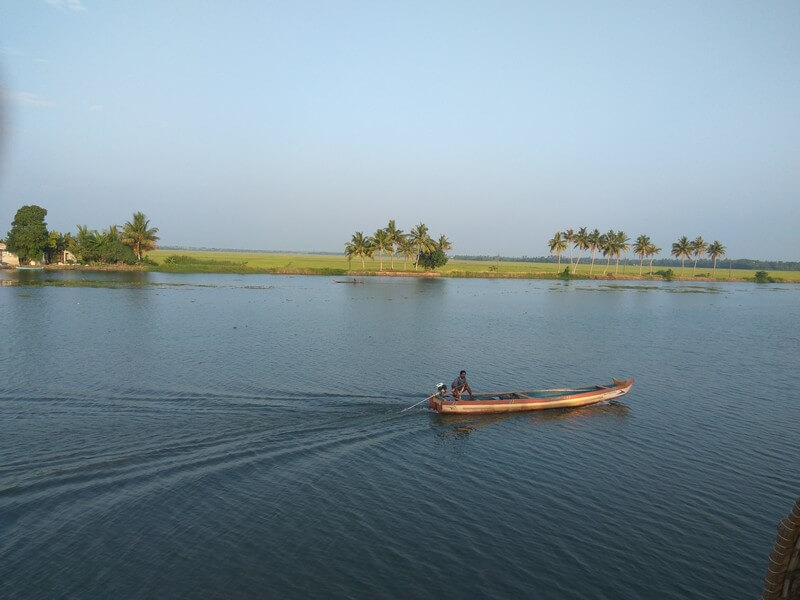 The true beauty of the Allappuzha lies in its chain of water bodies spread among the long stretch of Kerala backwaters. Vembanad Lake, also known as Vembanad Kayal is another backwater destination that has been included in the list of Alleppey tourist places to visit in a day. Spread over an area of 200 sq km, the lake is the largest and longest backwater stretch in Kerala.
Vembanad lakes consist of numerous small lakes and backwater canals. This beautiful lake surrounds the islands of Pallippuram, Pathiramanal and Perumbalam is a majestic backwater stretch in Kerala. The length of this vast area makes it a wonderful attraction for travelers visiting Kerala. Major tourist attractions of Vembanad Lake are backwater cruise and Pathiramanal Island. India's number one boat race which conducts during the Onam festival takes place in this Lake.
Cuisines to try during your visit to Alleppey:
You can't visit Alleppey without trying its exotic local food. Alleppey is famous all over the world by their amazing taste of local cuisines. There are number of places where you can enjoy the typical Kerala foods and drinks. The staple diet of people of Alleppey consists of steamed rice cake with coconut toppings and curry.(Known as Puttu in local language) You can also enjoy variety of vegeteraina and non vegerterti dishes like Dosa, Vada, Malabar Porotta with chicken curry ,Cuppa fish curry  and Nadan Kozhikkari. 
Alleppey is famous for its variety of seafood and most popular seafood items are Karimeen polichathu and Karimeen curry. All these food varieties are very specific to Alleppey and will give your taste buds an unforgettable experience. Apart from the local dishes you can also enjoy Chinese, North Indian and Continental cuisine here.
However one of the most interesting things to try during your 1-day in Alleppey is Toddy, an important alcohol drink in this region produced from coconut trees. Toddy is one of the most popular local drinks in Alleppey and it works as an energy booster. Toddy shops serve hot spicy fish curries and exotic sea food typical of toddy shops. 
 Also Read
Summary
Reviewer
Review Date
Reviewed Item
TOP 10 BEST PLACES TO VISIT IN ALLEPPEY
Author Rating